FAQ
What is the film where Lou Costello is a ghost during the Revolutionary War?

Film: The Time of Their Lives (1946)

Lou Costello plays Horatio Prim, a Revolutionary War era tinker, who becomes a ghost and is trapped to Danbury Acres till the crack of doom with a woman named Melody Allen. In order to break the curse, they must find a letter of commendation from General George Washington. Bud Abbott plays Dr. Ralph Greenway a descendant of butler, who helps the ghosts obtain an old clock where the letter is hidden.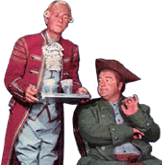 Welcome to the official Abbott & Costello website. It is our goal to help bring you the latest news and information (including new product and video releases; special events; televised specials and marathons; anything and everything pertaining to the boys). Bud Abbott and Lou Costello have conquered all the mediums of the 20th century: radio, film, and TV. With current technology brining fans from around the world together, Bud and Lou are now available in ABBOTT & COSTELLO MEET THE INTERNET!
Fun Fact
---
News
Thursday, May 5
TURNER CLASSIC MOVIES


Abbott and Costello Meet Captain Kidd
7:45am
Lost in a Harem
9:00am
Abbott and Costello in Hollywood
9:00am
Saturday, May 21
Abbott and Costello Meet Frankenstein

The Hollywood Theater in Dormont
1449 Potomac Ave
Pittsburgh, PA 15216
Beginning at 1 pm a program of comedy shorts, cartoons, and serial chapters will showcase the year 1948, just like the matinees of old. Ticket prices will be adjusted backwards in time --- just $.25 for kids 12 and under, and $.40 for adults. Popcorn, candy, and soda will be $.15 to $.25.
Tickets available at the door only. Questions, please email me at: king0mars2@aol.com
Monday, May 23
SKY ROOM TALKS
A Class on Abbott & Costello
Presented by Glenn Andreiev
7:30 pm
Cinema Arts Centre
423 Park Avenue
Huntington, New York 11743
Admission
$10 members
$15 general public
For more information
www.cinemaartscentre.org