FAQ
What is the film where Lou Costello is a ghost during the Revolutionary War?

Film: The Time of Their Lives (1946)

Lou Costello plays Horatio Prim, a Revolutionary War era tinker, who becomes a ghost and is trapped to Danbury Acres till the crack of doom with a woman named Melody Allen. In order to break the curse, they must find a letter of commendation from General George Washington. Bud Abbott plays Dr. Ralph Greenway a descendant of butler, who helps the ghosts obtain an old clock where the letter is hidden.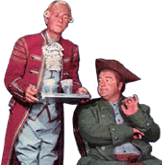 Welcome to the official Abbott & Costello website. It is our goal to help bring you the latest news and information (including new product and video releases; special events; televised specials and marathons; anything and everything pertaining to the boys). Bud Abbott and Lou Costello have conquered all the mediums of the 20th century: radio, film, and TV. With current technology brining fans from around the world together, Bud and Lou are now available in ABBOTT & COSTELLO MEET THE INTERNET!
Fun Fact
---
News
November 19, 2015
Abbott & Costello an Afternoon of Comedy
Hosted by Larry Wolff
Saturday, November 21, 2015
2 pm
The Glen Cove Public Library
4 Glen Cove Avenue
Glen Cove, New York 11541-2885
FREE ADMISSION
Space is limited
Information on Event: (516) 676-2130

Mr. Wolff will be discussing the lives and careers of Bud Abbott and Lou Costello, one of the greatest comedy teams of all time. A Power Point presentation will be used in conjunction with the lecture, along with showing film clips of some of their greatest routines. Autographs, books and movie memorabilia will also be on display.
April 15, 2015
Dance With Me Henry (1956)
Blue-Ray Release

Olive Films
Release Date: April 21, 2015


Blue-Ray release of Abbott & Costello's last film together, Dance With Me Henry. You can pre-order on Amazon.