FAQ
What is the film where Lou Costello is a ghost during the Revolutionary War?

Film: The Time of Their Lives (1946)

Lou Costello plays Horatio Prim, a Revolutionary War era tinker, who becomes a ghost and is trapped to Danbury Acres till the crack of doom with a woman named Melody Allen. In order to break the curse, they must find a letter of commendation from General George Washington. Bud Abbott plays Dr. Ralph Greenway a descendant of butler, who helps the ghosts obtain an old clock where the letter is hidden.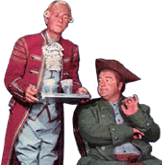 Welcome to the official Abbott & Costello website. It is our goal to help bring you the latest news and information (including new product and video releases; special events; televised specials and marathons; anything and everything pertaining to the boys). Bud Abbott and Lou Costello have conquered all the mediums of the 20th century: radio, film, and TV. With current technology brining fans from around the world together, Bud and Lou are now available in ABBOTT & COSTELLO MEET THE INTERNET!
Fun Fact
---
News
May 27, 2015
Screening: A&C Meet the Mummy
will be apart of Monster Bash Movie Conference. Showing Saturday June 20th at 9:00PM outside Pittsbugh, PA

Also THE ABBOTT & COSTELLO TRIBUTE SHOW will be performing Friday at 9pm, opening the screening on Saturday at 9pm, and Sunday at 2:30PM
The admission is: $20, or 3 day admission for $50.
May 1, 2015
Screening:
Sal St. George Special Presentation Rock Hall Museum Lawrence, Long Island

August 16, 2015 - 6:00pm
The admission is: $10 for adults / $8 for members and seniors / $5 for children under 12.
April 15, 2015
Dance With Me Henry (1956)
Blue-Ray Release

Olive Films
Release Date: April 21, 2015


Blue-Ray release of Abbott & Costello's last film together, Dance With Me Henry. You can pre-order on Amazon.